Harrison Bailey to Belgium
Current Robert Hodgson trophy winner and long time NSCC rider – Harrison Bailey – is heading to Europe having secured a contract with one of the top teams in Belgium.
Apart from winning the Robert Hodgson race in 2017, Harrison had a stunning year in NRS with GPM Stultz with stage race success during the year and getting noticed at the highest level. Harrison never talks it up and lets his legs to the talking – he is both humble and hugely talented.
I spoke to Harrison about his upcoming adventure:
" I was fortunate enough to get this ride off the back of making a few good friends and contacts last year, who were kind enough to put in a good word for me with this team.
I received an offer to race with them and consulting with friends and my Team Manager at GPM, Trent Wilson, the consensus was that I'd be foolish not to take the opportunity.
I think in Australia the opportunities to proceed to the next level (pro) are minimal to none unless selected on the Australian team.
NRS offers a good level of racing but in reality there aren't enough race days and results at NRS aren't what get riders pro contracts. Although a solid series, they hold no significance to the European teams, so the hope is with racing in Belgium is an increased amount of race days at a high level that provides a real opportunity to become a paid rider, whether at continental level, pro continental or world tour."
Harrison will be riding with the Baguet MIBA Poorten Indulek Derito Cycling team – one of the premier Belgian teams.
You can follow his fortunes this year at the team website – http://www.baguet-mibapoorten.be – it's in Flemish but use google translate and you'll be fine.
Good luck Harrison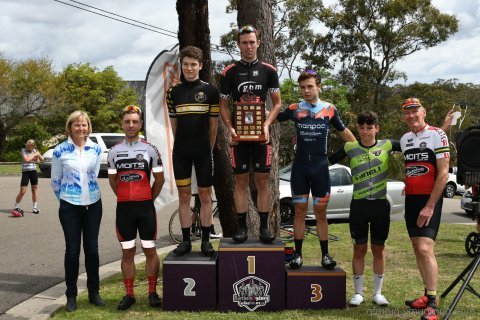 NSCC's NRS-level star riders are often overseas, searching for higher...

Jason Thomas Wins 19-34 Age Group at B2B

8 NSCC Riders Line Up for Australia's Toughest Race