Last weekend NSCC was well represented at the National Masters Road Titles on the Gold Coast. The titles comprise the 3 UCI disciplines of Individual Time Trial, Criterium and Road Race.
The club representatives were:
Kate Olgers (RR) – Womens Masters 5
Stu Grieve (all 3) & Gary Davidson (RR) – Masters 3
Dave O'Connell & Andrew Stevenson (crit and RR) – Masters 5
Richard Spinks All 3) – Masters 10
The podiums and Top 10 results were:
Kate Olgers – silver medal RR
Richard Spinks – bronze medal ITT, bronze medal Crit, bronze medal RR
Stu Grieve – 7th ITT
Dave O'Connell – 8th RR
Richard Spinks showed what a legend he was with 3 bronze medals (after coming back from a bad injury), Stu Grieve showed no fear in solo'ing in crit and RR only to be caught near the finish, and Dave O'Connell who stormed home in the RR.
The highlight performance was undoubtedly Kate Olgers, who shone in a red hot field to take RR silver. Here is the report from the womens 5 RR in Kate's own words:
"The National Masters Road Championships took place at the Gold Coast on 29 October, on the course for the 2018 Commonwealth Games. It's a tough course under race conditions – a fully closed 18.7 km circuit, mostly flat and fast, with 3 sharp hills providing opportunities for the breakaway. The women completed 3 laps – 56 km.
I anticipated a bruising race, with the course more suited to the ITT and crit specialists than to me. Three time World ITT Champion Anna Davis didn't disappoint. WM4 and WM5 went off together, led by Anna. Seven of us made a break on the first climb – me and Anna from WM5 and five riders from WM4. We cemented the break on the second climb, then experienced Anna's turbo thrusters as she went off the front alone, not to be reeled in. The remaining breakaway worked together for the balance of the race, pushing hard to ensure we stayed away. Anna finished around 3 mins ahead of us to take gold in WM5. I dropped back in the final 500m to leave the sprint finish to the WM4 bunch, and took silver in WM5 comfortably ahead of the rest (don't believe the times after first place on the CA website – the transponders were faulty)! It was great to see a few familiar NSCC faces at the finish line – Stu Grieve, Gary Davidson and Dave O'Connell.
As a rider who prefers 100+ km, I surprised myself with a podium finish! It's good to have a go – you miss 100% of the shots you don't take!"
Congrats to all competitors who represented the club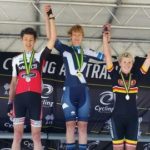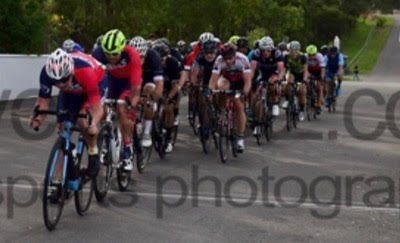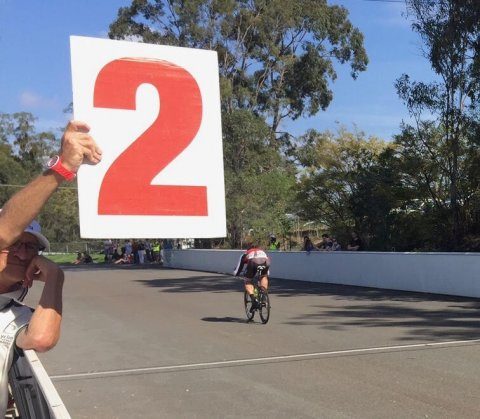 NSCC's NRS-level star riders are often overseas, searching for higher...

Jason Thomas Wins 19-34 Age Group at B2B

8 NSCC Riders Line Up for Australia's Toughest Race